Back in November, the city of Boston welcomed Mario Batali's Eataly with open arms. Described as vibrant Italian marketplace, Eataly is a food lover's one-stop-shop for fresh pasta, seafood, meat, cheeses; you name it! Also, did I mention that you can drink a glass of wine while shopping the store?!
Being a fan of the Eataly in New York City, I couldn't wait to visit the Prudential Center and check out the latest addition to our city's food scene. And, well, judging by the crazy long lines and throngs of people, every other Bostonian felt the same way!
Now, after being open for several months, the crowds at Eataly have subsided a bit, and I finally feel like I've been able to fully enjoy all it has to offer. If you're visiting Boston, or live here, but have not yet explored this 45,000 square foot marketplace, I wanted to share my advice for navigating, a.k.a. eating your way through Eataly Boston.
Insider tip: I highly recommend that you visit on a weekday, specifically on a Monday, Tuesday, or Wednesday, which are off-peak times. It's a much more enjoyable shopping experience when you aren't bumping shoulders with people in every direction that you turn!
Happy eating and drinking!
The A-Lyst

for Navigating Eataly Boston
Every experienced shopper knows that it's never a good idea to go to the grocery store, or really any store, on an empty stomach. That's why my first stop at Eataly is always at one of its delicious restaurants. La Piazza Wine Bar is my pick for grabbing a small, but filling snack, before hitting the marketplace. Snag a seat at the wine bar and order a shareable selection of cured meats and cheeses (my go-to is the soppressata and classic mozzarella with a side of fresh pesto) paired with a glass of vino. Since I usually eat quicker than I drink, I LOVE the fact that you can pay your bill and then take your wine with you as you shop.
Make Your Own Charcuterie Board
One of my favorite ways to start a weekend evening at home is by plating our own charcuterie board. We don't do anything too complicated, but I love choosing the meats, cheeses, and accompaniments, and then arranging them on my board in an aesthetically pleasing way. Eataly's cheese, meat, and antipasto department is phenomenal! I always ask the knowledgable staff a million questions about the products and then allow them to help me choose which ones to take home. My staples are always a creamy, rich block of cheese, sliced prosciutto, and a container of castlevetrano olives, my favorite kind of olive! Oh, and don't forget to look up while you're shopping for cheese — there's quite the display hanging above you!
Pick Up Fresh Pasta and a Bottle of Wine
Whether you fancy squid ink or fluffy potato gnocchi, Eataly's fresh pasta department is sure to have your favorite. I don't discriminate against any pasta, so I love trying new types every time I visit. If you're looking for a recommendation, my recent picks have been the handmade garganelli and spinach tagliatelle. They even sell fresh truffles, which I am dying to buy and use in a pasta dish! Right across from the pasta counter is Eataly's wine room (how coincidental!). There's almost always a tasting of two or three varieties and the staff is fantastic at making suggestions based on what you kind of food you are planning to pair with your wine. One of my absolute favorite kinds of red wine is Barolo, and Eataly has several to choose from at varying price points. For fellow wine lovers, you will be impressed.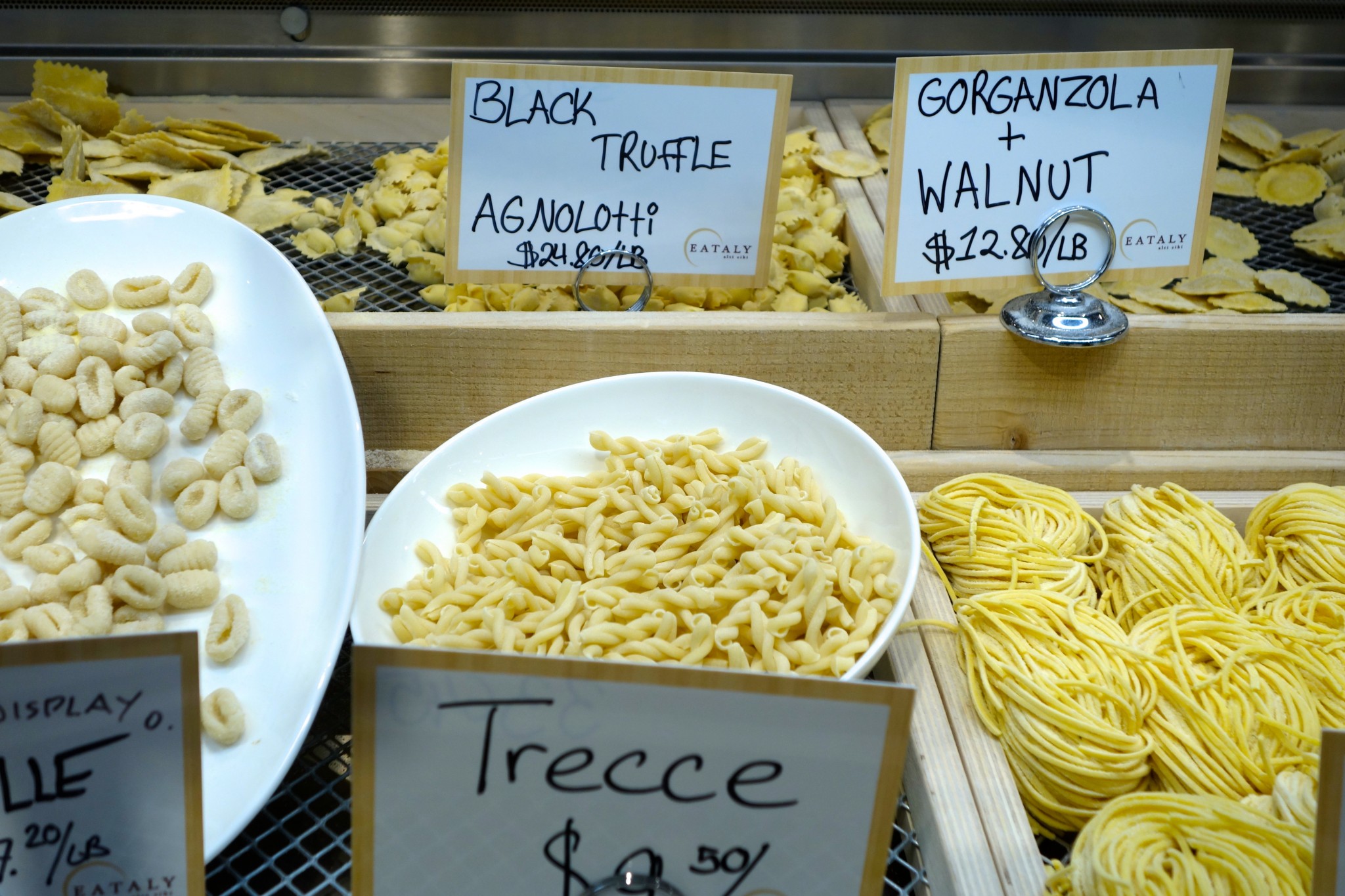 Check Out the Catch of the Day and Tomahawk Ribeye
The fish department at Eataly boasts everything from fresh oysters to octopus, and every time I visit, there's a different selection of seafood, which assures me it's always the freshest catches of the day on display. I love picking up a pound of scallops and pan-searing them for dinner, but I've been eyeing the branzino and jumbo shrimp as a future meal. For meat lovers, Eataly offers everything from filets to briskets. On a recent visit, my husband, the carnivore in our relationship, ooo'd and ahh'd at the larger than life Prime Dry Age Tomahawk Ribeye, which was one of the many stand-out steaks in Eataly's well-stocked meat department. I'm already looking forward to coming back in the summer to pick up a few sirloins to grill!
Taking a cooking class at Eataly seems to be one of the most popular things to do there, because I have been trying for months to book a class and they are always sold out! Class participants can learn how to make everything from hearty soups to bolognese sauce from Eataly's team of culinary instructors. Additionally, I've noticed some of Boston's top chefs, including Barbara Lynch, have even been on the schedule for cooking demos, which is pretty cool! Learning and eating at one of these classes is definitely on my wish list!
Indulge in Crepes, Gelato, and Cannolis
There's NOTHING better than ending your shopping trip with a sweet treat. For me, Eataly's creperia is where it's at for dessert. I personally love the simple deliciousness of a crepe filled with a warm hazelnut chocolate spread, but Eataly has multiple varieties that you can choose from depending on what you desire. Since the creperia is right next to a cafe, I highly recommend a cappuccino or hot chocolate pairing with your crepe. Gelato fans should not miss Eataly's gelateria, which serves up flavors like Tiramisu and Coconut with the option to add pure, rich chocolate sauce to the bottom or top! Still craving something sweet? Swing by the pastry counter for fruity cheesecakes and tiramisu! Last but not least, Eataly has a cannoli cart where you can watch as the pastry shells are filled with creamy ricotta right before your eyes. One thing is for sure, Eataly is certainly not lacking in the dessert department!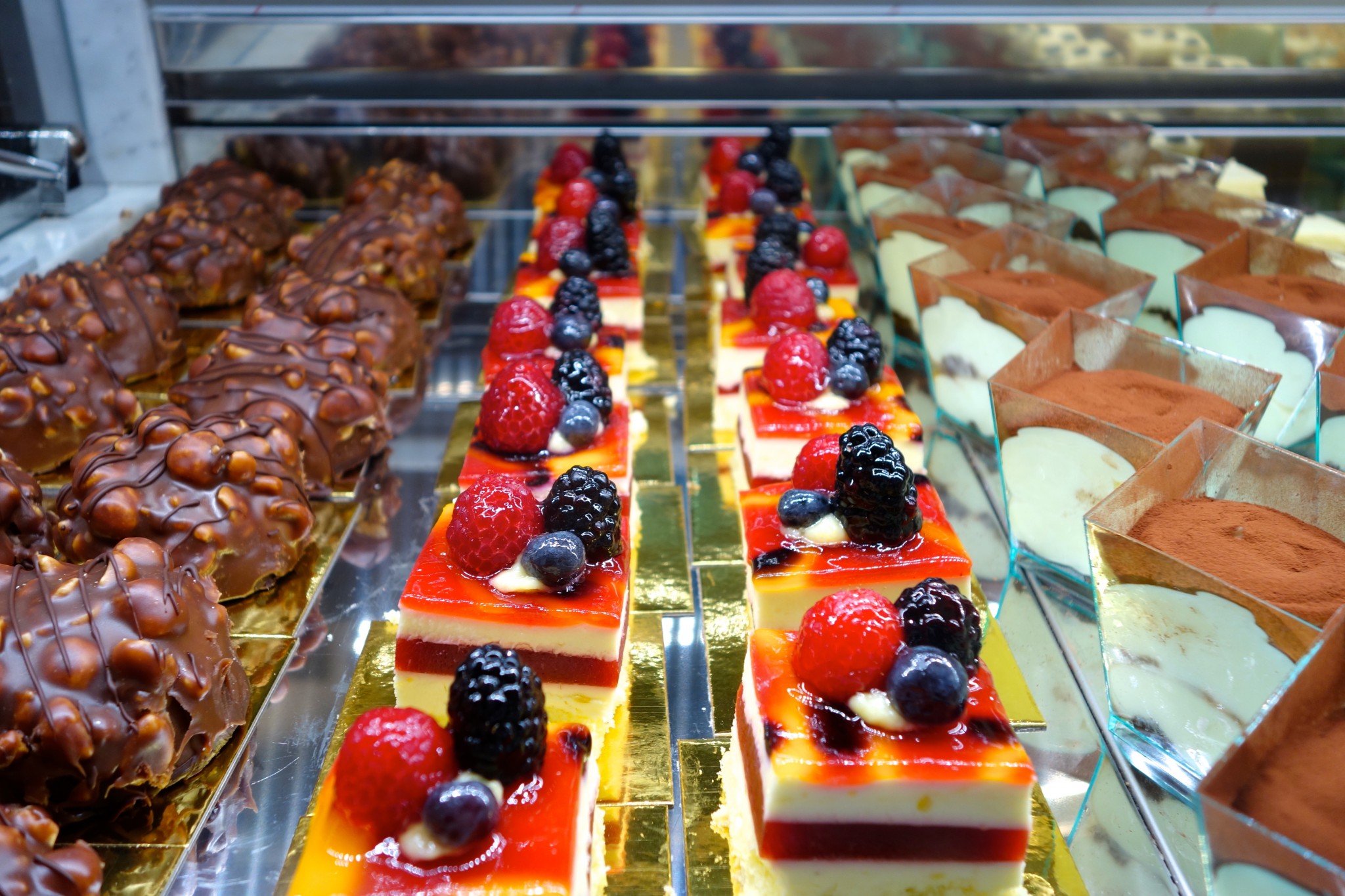 Outfit Details:
Sweater: J.Crew Side-Slit Sweater with Ties in Fiery Red
Scarf: J.Crew Italian Silk Square Scarf in Ratti Striped Floral
Jeans: FRAME Denim Le Skinny de Jeans in Columbia Road
Lipstick: Laura Mercier Velour Lovers Lip Color in Foreplay
Nail Polish: OPI Red My Fortune Cookie